LA the name that strikes a chemical formula of fashion/ entertainment travel and much more in your mind is eventually has got many options to be drooled over.
And one of the very options for the traveler is shopping!
Yes, you heard me correct and loud LA's stylish fashion hubs are guaranteed to delight brand-lovers to the core and have got everything in its spectacular vision.
So let's find more about the shopping destinations which can make you go berserk over the mention and are exclusively accumulated for you within this blog post, just get on the journey…
1. Westfield Century City
This place was opened in the 70s but since then this open-air single-level mall located has grabbed the attention of the travelers and locals. In the year 2002, it was acquired by the Westfield Group and has received a huge round of renovation, where now it includes 200 stores and a flagship state-of-the-art 15-screen multiplex cinema with stadium seating. Generally, something which really excites here every traveler is the high-end labels Swarovski Crystal, J.Crew, Kate Spade and True Religion, which have got another level of fashion quotient in the aura.
Go to Abercrombie Kids and Gap for children's' wear and buy straight-off-the-runway style at Karen Millen and Zara. You can also buy the best of fashion products from the renowned fashion boutiques by Neiman Marcus & Alex & Louis and enjoy the of-the-moment apparel, shoes, handbags and accessories, men's dress shirts, ties, and belts.
2. Beverly Centre
This very center is located at 8500 Beverly Boulevard, and is an eighty-story LA landmark, placed remarkably between La Cienega and San Vicente Boulevards on the cusp of Beverly Hills and West Hollywood.
This center is the best place for budget buys and the luxury brands, so you can select your favorite while roaming here.
You may find almost 160 boutiques that can leave you to pick either from Gucci, D&G, Louis Vuitton, Fendi, Jimmy Choo, and Burberry.
Also the most prominent department stores – Bloomingdale's and Macy's – are definite crowd-pleasers. The fast-fashion retailers H&M, Victoria's Secret and Forever 21 are more affordable choices. Don't forget to buy from the men's urban streetwear brand Tradition and legendary American label Halston Heritage.
3. Rodeo Drive
Between the Wilshire and Santa Monica Boulevards, the Holy Grail of shopping is located. This very popular world-famous street is spread across the three city blocks and gives the couture-frenzy fashion options.
You can satiate your fashion desires with 100+ stores including; Prada, Armani, Lanvin, Gucci, Christian Dior, Chanel, Ralph Lauren, and Valentino. Also, there are many options available such as Juicy Couture, Versace, Tiffany & Co., Cartier, and Roberto Cavalli.
The Bijan is considered as one of the most expensive shops in the world and has dressed President Barack Obama, Tom Cruise, Vladimir Putin, and Arnold Schwarzenegger.
4. Citadel Outlets
It is just situated only ten minutes south of Downtown LA, and this huge shopping complex is surrounded by the landscaped courtyard that is further covered by the palm trees.
There are around 115 outlet stores including Adidas, Levi's, Sony, Nike, Gap, Old Navy, Tommy Hilfiger, Calvin Klein, high-fashion brands American Apparel, DKNY, and Not Your Daughter's Jeans.Also the most bought and fascinating stores including Michael Kors, Fossil, COACH for must-have bags and accessories, and Converse, Crocs, Nine West and Sketchers for footwear.
Indeed the options are many but many brands can keep your pulse rate high, so what are you waiting for???
5. LA Fashion District
LA Fashion District is spread across the 100 blocks and has more than 1,000 stores, giving the best of the apparel, accessories, shoes, and textiles, which can be bought at the 70% off standard retail prices. The Pico Boulevard is the abode of chic stores selling discounted evening dresses. And some of the showrooms are selling the 'wholesale only' option. Go to the Menswear District on Los Angeles Street between 7th and 9th for discounted suits and ties. Also gt the whiff of fresh flowers which are kept in the historic Los Angeles Flower Market, where you do not just get the fresh flowers, potted plants, and floral supplies.
6. Montana Avenue
Located around 21km from the heart of Downtown LA, Montana Ave is spread over ten blocks between 17th and 7th Streets.This place is the home to 150 one-off shops and boutiques selling apparel, jewelry, make-up, footwear, home furnishings, gifts and more. You can so the exclusive, chic and casual shopping here, and the shopping is not limited to dresses only, but the options of jewelry & home décor are nothing but a haven for shoppers in LA.
7. Robertson Boulevard
Calling this place a Mecca for shopping-frantic Hollywood stars and every other fashionista traveler, indeed Robertson Boulevard has got that funk & edge in its aura, that can bring the true-statement of fashion within you.
You may find the inspiring selection of on-trend clothing stores, jewelry boutiques and celebrity-laden eating joints, but something which would leave you gaping is the collection of the incredible fashion pieces. You can buy skinny jeans, oversized sunglasses, accessories, and shoes. Kitson Men gives you a great selection of tees and sweatshirts, and Kitson Kids brings the high-fashion brands like Victoria Beckham, Jennifer Lopez and Britney Spears for your little munchkins to be dressed in.
The fashion is the biggest fact we all live by every day, whether on the known or unknown grounds, but we all love to embrace the fashion in the best possible form, and going to a city like Los Angeles really brings that dressing quotient within you
8. Melrose Avenue
This very avenue on the Strip has everything you could ever ask for your fashion vibes to be satisfied.
It is the fusion of glamorous high-end fashion, incredible vintage, and with oodles of options available for clothing and designer homeware.
You may visit the Marc Jacobs, Fred Segal, Decades and many other brands to enjoy the funky, hipster, vintage, classical and every other type of clothing which you could ever ask for.
Get indulged into gifts and shoes from lesser-known designers and get a sneak peek of celebrities at the DASH boutique, which is owned by Kardashian clan.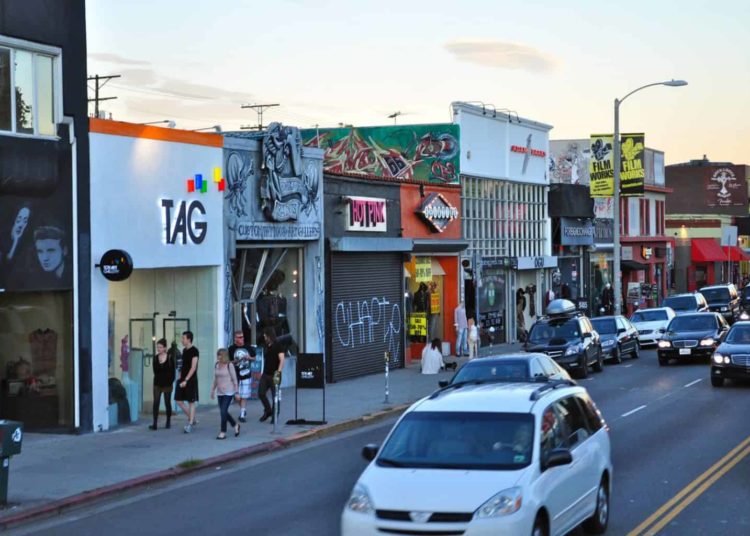 9. The Grove
This very restaurant is located next to the Farmers Market and this open-air-complex is spread across 575,000-square-foot.
You can find the Art Deco-inspired facades, where almost 50 retailers are sitting to allure you with their fashion, beauty, books and more products.
Some of the niche brands like Abercrombie & Fitch, Gap, Nike, Zara, Anthropologie, Pottery Barn Kids, Barnes and Noble, Barneys New York CO-OP and Kiehl's. are some of the eye candies you must visit here.
You can enjoy the fashion shopping here while indulging in bakery products which are being sold by famous gourmet cupcake bakery Sprinkles
10. Original Farmers Market- A food shopping paradise
A little off the track, but since it is nothing less than a paradise, so I found it must to be mentioned.
We all know that shopping is not limited to fashion & clothing, and food goes along with the shopping to boost up your energy level.
LA has the enthralling gourmands offering the incredible food stands from local traders and around 100 stalls and shops selling fresh-from-the-farm delights, wholesome food products, delectable sweet treats, crafts and beauty supplies. You do not just get to buy the fresh farm products but also the diverse dining options give you the tasteful sandwiches, sushi, oysters and doughnuts to fresh fruit, vegetables, cheese, and fine meat cuts.
This list of top 10 fashion destinations in the city of beautiful Los Angeles, that can help you enjoy the fashion statement and bring that fervor in your wardrobe without a fail.
Other Best Shopping Locations In Los Angeles, That Can Woo Your Shopping Instincts
11. THE SANTEE ALLEY
Santee Alley is your destination for the best cheap shopping in Los Angeles. The downtown alley has a huge flea market known as the Fashion District from where you can find vendors selling apparels, accessories, footwear, and cosmetic supplies making it one of the best places for shopping in Los Angeles downtown. An equivalent of New Delhi's Sarojini Nagar, the place is open seven days a week. The streets of the Santee Alley, known for its lively and bustling atmosphere, is where you can put your bargaining skills in use. Have an amazing Los Angeles shopping in the busy streets of the Fashion District. It is one of the best places for outlet shopping in Los Angeles.
12. LOS ANGELES AIRPORT SHOPPING MALL
For those who need no excuse to shop can embark on their shopping spree right from the start. Lax Shopping Mall offers an extensive list of stores from where you can buy designer apparel, handbags, swanky watches, and perfumes. Even if you have some time on board, one last shopping tour in the LAX mall will help you kill some time and do a good damage to your budget.
13. SOUTH COAST PLAZA
The biggest shopping mall in Los Angeles, South Coast Plaza is an example of elegance and aesthetic appeal. There are more than 250 outlets and stores where you can go on a Los Angeles shopping spree. Stella McCartney, Saks, and Hermes, you will find all the swanky stores inside the mall. Apart from shopping, you can also indulge in fine-dining experience at high-end restaurants. With so many choices, the money in your wallet will disappear like vapor. Whether you are a kid or an adult, this shopping mall has got something for everyone. There is a huge probability that you may get lost in the mall.
14. ABBOT KINNEY BOULEVARD
If you like all things vintage and Bohemian, there is only one place in Los Angeles where you should come to shop. The boulevard is lined up with vintage boutiques, Bohemian Exchange (a trendy clothing exchange) and clothing stores in Los Angeles. If you are wondering what to buy in Los Angeles, then you can also buy 100% organic fragrances from Strange Invisible Perfumes. Not only a shopping centre in Los Angeles, but Abbot Kinney Boulevard is also known as a foodie destination with great restaurants like Wabi Sabi, Gjelina, and Joe's. One of the coolest blocks in America, it is also a happening shopping street.
15. WEST THIRD : INSIGHTFUL EXTRAVAGANZA
A walkable dining and shopping district in Los Angeles, West Third Street is a perfect place for an afternoon shopping programme. With over 100 Los Angeles stores, acclaimed restaurants, and specialty stores, it is one of the best places to shop till you drop. From trendsetting clothing, optical boutiques, to chic home furnishings, you can find anything and everything at West Third.
16. HOLLYWOOD AND HIGHLAND
Hollywood and Highland is one of the posh shopping areas in Los Angeles which is very famous among tourists. More than shopping, it is famous for entertainment and is home to House of Wax, Hollywood Walk of Fame, Dolby Theatre where Academy Awards and Cirque du Soleil take place, and many more. The best shopping center in Los Angeles, this is where you should definitely come if you are visiting the land of Hollywood. Make some time to hit the beaches in Los Angeles as well.
17. 3RD STREET PROMENADE
For those who want to enjoy luxury shopping in Los Angeles, they should straight away head to 3rd Street Promenade. Known for upscale shopping, you will find high profile stores, fancy restaurants, top cafes, and trendy boutiques in Los Angeles. Who knows you may even run into a movie star. So, watch out! You will also find a lot of talented street performers giving a nice vibe to the whole place. You can enjoy taking a stroll with your friends or family if you don't want to shop.
18. THE OUTLETS AT ORANGE
For the best outlet shopping, Los Angeles has got a lot of options. One of the great options to enjoy outlet shopping is the Outlet at Orange where you can shop all the brands at a cheap price. From Nike, Calvin Klein, Blooming Dales, Converse, to Ralph Lauren, you will find each and every brand here. However, you may find an issue with parking as it gets crowded, especially on weekends. Therefore, it is advised you come early in the morning. Enjoy discount shopping in Los Angeles and bring heaps of shopping bags from your spree.
19. THE COMMONS AT CALABASAS
The Commons At Calabasas is an amazing shopping center located in Los Angeles. Teemed with beautiful gardens, fountains, and Mediterranean-styled architecture paints quite a picture when you enter this mall. If not for shopping, you should visit this place for its ambience alone. There are a large number of brands that you can choose from for your shopping extravaganza such as Sephora, Kade Spade, Barnes & Noble, and more. You can also spot a lot of Hollywood celebs in this shopping mall.
20. ATWATER VILLAGE
One of the swankiest neighbourhoods for shopping in LA, Atwater Village offers you the best of options. Even though it is a small neighbourhood, you will find an amazing collection here. From vintage to latest, come here for an exquisite shopping experience. You will also find independent home stores and garden shops that sell artisanal products.