Delhi is one of the most highly developed terrains when it comes to education. There are numerous educational centres and schools set up across the city providing their services. It is good to stay updated about the best schools in your city as you need to do a lot of research before you admit your child in a school. Therefore, we give you the list of top 10 schools in Delhi. See which one suits your needs the most.
Army Public Schools, Delhi Cantt. was established in 1989. It is ranked no: 2 in all India ranking for its extraordinary leadership by the Education World Grand Jury Awards. The institution trains young minds and aims at developing all the requisite 21st Century skills to prepare them for life beyond tomorrow. The school boasts of state of art infrastructure viz., well-equipped labs, spacious auditorium, yoga hall, hi-tech gym, Science Park and herbal garden to meet the demands of modern-day education.
The school curriculum focuses not only on academic intelligence; it also gives ample opportunities for the children to enhance their soft skills by encouraging them to participate in various co-curricular and sports competitions. They believe in adopting a holistic approach and aims not at only imparting intelligence but also instil in them the spirit of patriotism, social responsibility, compassion and caring which are much needed to promote harmony and peace in the world. The institution marches ahead with its lofty ideals to give a new dimension to the lives of the younger generation who are the future global leaders.
Contact Now
Get Directions: Click Here
Delhi Public School R.K. Puram is a co-educational day-cum-boarding school established in 1972 in New Delhi. It is a private institution run by the Delhi Public School Society. The school centres on a shared commitment to academic excellence, intellectual growth, art, athletics, and high standards of ethical awareness, sportsmanship, and community service.
Their traditions and accessibility to a broad curriculum add depth to each student's life. They consider education to be a life-long process which should have a strong foundation. They uphold their founders' commitment to excellence in all fields, with emphasis on their motto Service before Self. Their goal is to inculcate in the students a love for learning and a desire to excel at every level. In a nutshell, the mission of DPS R.K. Puram is "to open doors and open minds" and prepares the ground for the future of the nation.
Contact Now
Get Directions: Click Here
Carmel Convent is one of the most prestigious schools founded on July 16th, 1957, recognized by the Directorate of Education of the Delhi Administration and is affiliated to the Central Board of Secondary Education. It is an all girl's school with approximately 2000 students on its rolls. The School aims at excellence not only in terms of the academic but also in building personality, focusing on the all-round development of its students.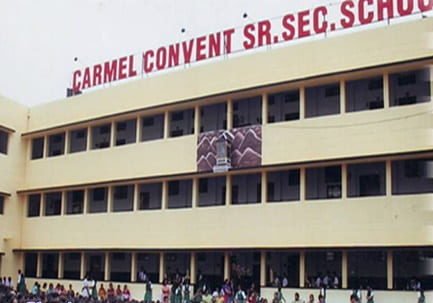 They endeavours to achieve this not merely through classroom teaching, but also through various co-curricular activities and community service programmes. Their special focus is on the formation of the committed people who are filled with a sense of mission to their country and the world. They strive to implement the national aims and objectives of education through the goals their school has discovered and which must be realized and propagated by all their staff and students.
Contact Now
Get Directions: Click Here
Apeejay School, Pitampura, is one of the renowned schools in Delhi, where students walk hand in hand with the contemporary times realizing the value of togetherness. With the fast-moving and expanding horizons, students know that 'All Expansion is Life and All Contraction is Death'. The School has a congenial, child-centric environment, ideal for developing a complete human being with an enviable character.
They offer value-driven education of global dimension from the Pre-Primary to the Sr. Secondary level. The School aims at making students global citizens by not only making them tolerant towards other cultures but also to accept and respect these cultures, the School is making a steady move towards 'Internationalism', where the students realise that 'The whole world is but one family', Vasudhaiv Kutumbakam. They strive to build institutions that uphold the highest professional standards of excellence in education and innovative instructional practices as their raison d'etre.
Contact Now
Get Directions: Click Here
Modern School Barakhamba Road was established in 1920, the school has been synonymous with quality education and is a pioneer in mooting all-round development and fostering an all-round growth in its wards and offer holistic education coupled with Indian ethos. They firmly believe schooling and education should be synonymous, and work towards the maximum development of every young mind.
They help their students to progress by providing them with the best knowledge to help the society progress by bringing their newly acquired information to the workforce. The school tries to boosts confidence and teaches their students to establish and maintain friendships, and help them learn how to work together as a team, which is a primary tenet of any successful society.
Contact Now
Get Directions: Click Here
Manav Sthali is one of the prestigious schools with seamless class routines that are designed to keep their students equipped for successful and responsible lives in an interconnected & interdependent world. Their mission is to provide a congenial & safe environment to foster their students holistically into empowered, compassionate, skilled global citizens who will take the country to greater heights. Their focus is well-balanced development of every child: physically, intellectually, creatively, emotionally, spiritually, morally and aesthetically.
With their international standard education and the inclusion of an international dimension in School, they aim to provide their students with opportunities to develop international curiosity, to enhance their learning experience, and help them to be aware of their global identity & responsibility as an active global citizen.
Contact Now
Get Directions: Click Here
Air Force Golden Jubilee Institute is one of the leading public schools run by Indian Air Force Educational and Cultural Society located at Subroto Park, New Delhi. Since its inception in 1985, the school has been imparting integrated education for children with special needs but subsequently, it has spread itself into an integrated group of about 2179 students and 91 students with special needs, receiving an education with a multidisciplinary approach for their all-round development.
The School's Vision is to provide "Better Tomorrow" for their children by giving them better education, which will fully equip them to face challenges of life in the field of Sports, Arts, Academics, and Cultural activities with vocational and professional competence.
Contact Now
Get Directions: Click Here
The Shri Ram School is a school that celebrates individuality and propels each child to constantly better their best. The School aims to provide each student a diverse education in a safe, supportive environment that promotes sound values, self-discipline, motivation and excellence in learning.
They consider every student to be unique and strive to offer a platform that lets them discover their own special light, at their own pace. According to them, education is not only a tool to achieve professional milestones, but also a means to make lives better. This belief is practiced by every member of The Shri Ram Schools. All their campuses are child-friendly centres that encourage students to enjoy learning and explore their own uniqueness which helps them to not only to identify their own strengths but also to apply their knowledge to interpret the world on their own terms. Their only goal is to impart an education that results in well-formed minds and the impetus and environment to think.
Contact Now
Get Directions: Click Here
Bal Bharati Public School was incorporated in 1944, since then the school has championed the cause of nourishing the rich culture, heritage, and tradition while maintaining a progressive attitude towards fostering academic rigour with a caring heart, appreciating individuals with the warmth of a cohesive school community.
With an excellent faculty serving as teachers, coaches, advisors, mentors, and friends they are intensely devoted to the success of their students. The faculty seeks to challenge and inspire students to reach new levels of inquiry and understanding in every area of school life. Their success lies with their students as well, as they continue to enhance their reputation and make a positive impact on today's global demands.
Contact Now
Get Directions: Click Here
Springdales School is a public service-oriented school established in 1955 with its commitment to national revival and internationalism. With the motto 'Vasudhaiva Kutumbakam' the school works towards bringing about the holistic development of the children who are entrusted to their care. The objectives of the school are manifold. They endeavour to sow the seeds of acceptance, collaboration and empathy that will help students to deal with the challenges they face as adults.
The school believes that learning takes place in a variety of ways- in the community, through peers, information technology, media, literacy, life skills and well-being initiatives. Their aim is to provide the right inputs to help the children grow up into caring and sharing individuals, equipped to make the right choices in life and grow up to be responsible citizens of the country and the world.
Contact Now
Get Directions: Click Here
Our 10 best-known alternative schools have given you perspective on how you'd like your child to be educated. Also, you can check the top 10 schools of Gurgaon. While our tips on how to select the ideal school for your child will help you make the right choice, whatever it is you want for your child.
Other Best Schools in Delhi
Here we have brought the next list of best schools in Delhi to help you make a much better and informed decision.
11. Blue Bells International School
It is one of the most reputed schools in terms of academic and faculty resources and is affiliated to CBSE. It has a great spectrum which is not limited to only academic growth, but largely this school focuses on the all-round development of your child. They are very famous for conducting several activities throughout the year, that emphasis on the intellectual and emotional growth. It is on the top list of the top 10 list of schools in Delhi.
Address: Shri Ram College, Lala Lajpat Road Opposite Lady, Kailash Colony, New Delhi, Delhi 110048
Phone: 011 2923 2963
12. Don Bosco School
Don Bosco is all-boys school and has always ranked as the top school not only in Delhi but countrywide. The school has the biggest land, which gives the kids enough of space to learn, play and grow.
It was established as early as 1980, it is run by the one and a half-century-old organization The Order of the Salesians of Don Bosco.
Address: Alaknanda Rd, Gangotri Enclave, Al Qureshis, Alaknanda, New Delhi, Delhi 110019
Phone: 011 2921 7712
13. Carmel Convent School
Carmel Convent School was founded in 1957, and is run by the Congregation of Sisters of the Apostolic Carmel..
It been always been considered the academically excellent school in the country which vales the Indian culture to a larger extent. It is CBSE curriculum school and offers the diverse arena of education in a safe, supportive environment that promotes sound values, self-discipline, motivation and excellence in learning.
Address: Malcha Marg, Chanakya Puri, New Delhi-21
Phone: 011 26871299
14. The British School
The British School is a not-for-profit school offering the National Curriculum of England i.e., the IGCSE and the International Baccalaureate Diploma Programme. The main aim behind its establishment was the fusion of traditional Indian system of education and modern educational techniques.
Today it provides the quality education and fosters holistic all-round development of children. It is affiliated to CBSE and the school focuses on education, sports, music and other activities to give you an all-rounder.
Address: Dr. Jose P Rizal Marg, Chanakyapuri, New Delhi, 110021
Phone: 011 40664166
15. Ahlcon International School
This coeducational school follows CBSE curriculum and has a green campus and is well recognized for its academic excellence and focus it offers to. The school has spacious classrooms, counseling rooms, auditorium, separate libraries for primary and secondary students, play areas, medical rooms, well-equipped laboratories, and a paper recycling unit.
Address: Mayur Vihar, Phase I, Delhi – 110 091
Phone: 011 4777 0777
16. St. George's School
Late Rev. Fr. V.C. George, a Christian Missionary priest belonging to the Indian Orthodox Church, founded the School in 1962.
It is a minority institution run by the Christian minority. It is affiliated to the CBSE and has been granted recognition by the Directorate of Education. It blends old and time-tested values with modern knowledge and state-of-the-art-facilities.
Address: St. George's School, Alaknanda, New Delhi-110019
Phone: 011 26022325, 26024645
17. Vasant Valley School
Vasant Valley School is a co-educational in Delhi, It was established in the year July 1990, up to grade 4. The school added a new grade each year as the classes graduated to the next level.
The Director of the school is Arun Kapur, a former housemaster at The Doon School and an alumnus of St. Stephen's College, Delhi. The Headmistress of the Junior School is Rekha Bakshi, and the Headmistress of the Senior School is Rekha Krishnan
Address: Vasant Kunj Marg, Pocket 7, Sector C, Vasant Kunj, New Delhi, Delhi 110070
Phone: 011 2689 278
18. Amity International School
Amity International School, Saket is the first in the chain of schools and institutions established under the aegis of its visionary Founder President Dr. Ashok K. Chauhan. Established in 1991, the school has set several benchmarks under the dynamic leadership of its Chairperson Dr (Mrs) Amita Chauhan. It aims to nurture individuals with paramount values and multivalent competencies.
Address: Amity International School, M Block, Saket New Delhi – 110017
Phone: 011 40738400/40738421
19. The Foundation School
Established in 2014, The Foundation School is situated in Josip Broz Marg. The school has around 600 students studying in pre-primary & primary wings. In a very short span of time TFS has earned the recognition in the education industry, as per the standard of DOE, now TFS is only till 8th class, but every year they are adding another class for the kids, so next year there would be 9th class and so on, which will make it a full-fledged pre-primary to 12th grade school in coming years. The reason this school has made to this list is not just due to the co-educational based system, but their aim for the holistic improvement of the child. This school has the aim of providing the education that blooms the child's physical, emotional, mental, and spiritual personality. One of the greatest aspects TFS has, is the convenient 2nd shift for the kids, starting from 12.30 to 5.30, which gives the parents and the kids enough of time to manage their schedule, and kids stay active throughout the day.
Address: Josip Broz Tito Marg, Sector 3, Sadiq Nagar, New Delhi, Delhi 110049
20. Pinnacle School
The Pinnacle School started out in 1958 as 'Tiny Tots School', a small kindergarten and nursery school in Defence Colony, South Delhi. It was established by Mrs. Babs Noronha, the war widow of Wing Commander S. B. Noronha, India's first recipient of the Maha Vir Chakra gallantry award. It is fully equipped with modern teaching aids, technology, and equipment. It is recognized by the Directorate of Education, NCT of Delhi and affiliated to CBSE, Delhi up to Class XII.
Address: D-Block, Panchsheel Enclave, Opp. D-65, New Delhi, Delhi 110017
Phone: 011 2649 0952