Gurgaon is so full of lip-smacking food joints with and bars, it is next to impossible to choose the best one amongst them. There are numerous restaurants that we actually wanted to put on this list, but because we can't really do that, we've taken our pick of the top 10 restaurants in Gurgaon. So, whether you're looking to grab a quick brunch in the middle of your workday, or are looking to take your date out for an impromptu date night you can this list is your guide to the city's best new restaurants that you can head over to have the best dine in experience.
1. DANA CHOGA
Dana Choga is a chain of restaurants established in 1994 in Gurugram by a husband-wife duo Deepak and Amita Chandhok. Over the last two decades, it has become a renowned brand in the city for serving consistent and high-quality North Indian food. Their motto of "Taste for Life" was adopted with a motive to provide authentic taste and warm hospitality to their guests which makes them into their patrons for life and to achieve such patronage, their teams work hard every day to maintain consistency in food and service.
Their specialities for which they are known for are classic Dal Makhani and Butter Chicken (Favorite among youngsters), Chicken Chatkara (for the spicy lovers), Paneer Adrak Hara Dhaniya (the vegetarian favourite!). They have built strong expertise for office and home through many delivery options. They have also established themselves as a catering division serving in events like Greh Pravesh, corporate annual meets and marriages. Also, it's one of the favourite and among the top restaurants in Delhi
Book A Table
2. Naivedyam
Naivedyam is the finest South Indian restaurant located in Gurugram. With more than two decades of experience in the food and beverage industry, Mr Shekar Bangera managed to compile a pure hygienic food joint that serves heavenly South Indian cuisine in a beautiful temple-like setting & harmonized with Southern devotional music that soothes your mind.
Since 1994, the restaurant has grown in popularity through the exceptional quality of service and authentic food. From providing your taste buds with the right south Indian taste to their state-of-art ambience they promise to take you right into the interiors of Karnataka. For their exceptional taste and finest ambience, they have also received many awards under food category and are now a certified holder of "THE FINEST RESTAURANTS OF INDIA" by Citibank Diners Club.
Book A Table
3. Karnataka Restaurant
If you're looking to savour your south Indian food cravings Karnataka Restaurant is the place to be. Their Idli Sambhar, Masala Dosa, Vadas will make your senses take a stroll down streets and lanes of the Karnataka state. This is one of the Best Place to be for a South Indian Foodie! They promise you to give the best South Indian dining experience with an ambience matching to the state of Karnataka along with authentic food preparation.
Their North Indian, Chinese and Veg dishes are equally heavenly and finger-licking. With a team of experienced chefs who are well trained at making authentic food provide high-quality food and Staff service to their guests. The food that they prepare is prepared with the purest of ingredients, along with the love and care that they want to shower on you.
Book A Table
4. AMARANTA, GURGAON
Amaranta restaurant located at The Oberoi, Gurgaon is open for lunch and dinner, until midnight. Named after the flower that never fades, It is a chic minimalist fine dining restaurant with intimate seating arrangements and exceptional personalized service. Indian food comes full circle in an all-new progressive menu at their contemporary Indian restaurant. Timeless Indian recipes and authentic flavours blend seamlessly with unexpected pairings and presentations for a thoroughly modern dining experience.
Guests on a tight lunchtime schedule can also enjoy their specially curated express luxury lunch menu. Budding sommeliers can wrap their taste buds around their degustation wine-paired menu or the Amaranta a la carte menu, which includes a Kolkata Street Bento Box, a Farsan medley with Dabeli Bao, Khakra Crisps, Dhokla Pakodas and chilli yogurt dip, Lal Maas Kachodi with Aloo Subzi and their mélange from Hyderabad – a delectable interplay between haleem croquettes and Magaz masala. Along with that they also offer seasonal special menus. The restaurant also offers a private dining room that can host up to ten people for an exclusive lunch or dinner.
For more details visit –www.oberoihotels.com/hotels-in-gurgaon/restaurants/amaranta
Book A Table
5. The Ivy Restaurant
Ivy restaurant offers some of the best perspectives on Continental food, Mediterranean food, and a whole lot more. Using the freshest ingredients, from the best possible source, their kitchen has some phenomenal offerings, which are simply unassailable in the entire NCR. This is possible because of their retinue of the handpicked magicians in the kitchen. Their menu has been curated with utmost care and sincerity by their chefs while keeping in mind the taste palates of their customers.
The best and most guarded recipes from around the world have been tasted and tested, and then tweaked to give their representation of perspective a unique, tasteful, and simply mesmerizing twist. They don't just hire mere cooks, they hire wizards, who apart from being powerful in the gastronomic sciences, are people with perspective; after all, anyone can cook, but only people with perspective can offer experiences. So do visit there for an array of mesmerizing and lip-smacking food that is simply worth dying for. But most of all, come along for an exemplary gastro experience that is one of a kind.
Book A Table
6. SEASONAL TASTE
Seasonal Tastes is located on the lobby level, offers an extensive buffet and à la carte dining all-day. The breakfast buffet at Seasonal Tastes features eggs, waffles, baked goods, fresh fruit, cereals, and much more. Lunch and dinner buffets include a generous selection of classic comfort foods, enticing and fresh Indian cuisine from our region and beyond, and wholesome choices for health-conscious guests.
The restaurant's cool and casual design takes advantage of the abundance of natural light, and an open kitchen. Also, seven live cooking stations keep guests entertained as nourishing made-to-order requests are prepared by their friendly associates. Families can enjoy a themed brunch every Sunday, while adults can order a glass of wine or cocktail from our extensive menu at any time of the day. For late-night nourishment, stop in for international fare available from the selected menu, available seven days a week. Also, they offer a discount on the buffet to Children of 3 to 12 years.
Book A Table
Impromptu is an initiative from the promoters of Clay Business Group, who have always believed in innovating and customizing solutions to fulfil customer requirements. At Impromptu you can experience the flavours of the Mediterranean, South-east Asian and Indian cuisine in one of the most happening places in Gurugram. Their focus is not just limited to serve fresh, hot and delicious food, but encapsulates a whole dining-out experience.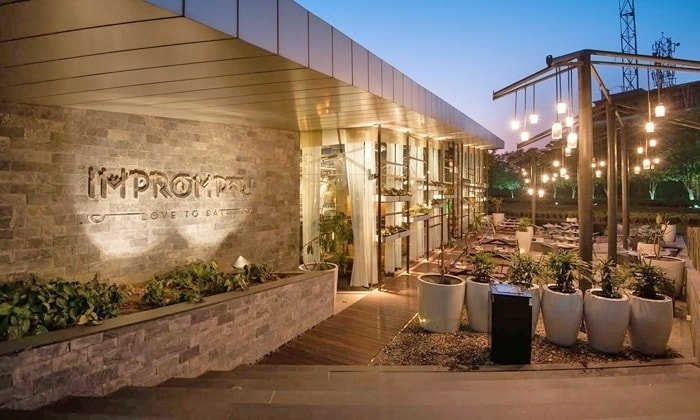 It's not just the delicious food, the ambience is set up in a way that makes it charming and lets your soul breathe with its various seating options that include, a romantic outdoor portico seating, an elegant Private Dining Room and a bar area. So, Impromptu style, you can choose to enjoy your meal indoors or out on the open deck with an alfresco backdrop replete with greenery. The restaurant embodies the essence of Impromptu to have a rustic hideaway where food, drinks and talk blend in a melting pot of great cuisine, warm sunshine and good company.
Book A Table
8. Lavana
Lavana is located on the first floor of Hyatt regency, It serves authentic Indian cuisine and recreates the magic of the bygone Nawabi era with home-style dishes and private dining space. The restaurant brings out the essence and inherent flavours of the revered Indian cuisine that is strongly influenced by traditional cooking techniques, a confluence of the choicest and richest ingredients and age-old recipes.
So, hop over authentic crowning delicacies from the land of India as Lavana rediscovers the royal flavours and culinary heritage of Indian food. It is one of the comfortable and unique places to escape from the stress of everyday life, to relax and enjoy a fun, casual dining experience.
Book A Table
9. PUNJABI BY NATURE
Punjabi by Nature is considered to be the home to some of the most authentic and tastiest North Indian cuisines. It is an all-time favorite restaurant among one and all. They are one of the trusted names when it comes to a North Indian fine dining experience. You can enjoy your favourite food, in a relaxing and comfortable ambience, Their dishes are created using the finest ingredients, fresh herbs and spices, and lots of skills.
From various platters, delicious kebabs and flavour-packed chicken and mutton preparations, They bring you the real taste of North Indian delights. Walk-in through their doors to a whole new and delicious world of wholesome meals. Savour your taste buds now!
Book A Table
10. EEST
EEST is located on the first floor of The Westin, Gurugram. It offers an endless array of dishes that focus on authentic flavours and recipes from Japan, Thailand & China. Visually striking in every fashion, this elegant restaurant features an impressive repertoire from Expat Asian chefs, using traditional ingredients and methods. The design and décor of the restaurant include a vast amount of glasswork making it a bright, airy restaurant for lunch and delightful for dinner.
The various Asian influences in the design and décor of the restaurant are the main feature. The eclectic selections carefully blended and combined with a number of live cooking stations and food display tables ensure the venue to be a visual treat. The décor ensures everyone leaving the restaurant goes with a story of something they saw and experienced in the most positive natural way.
Book A Table
With an ample number of great restaurants in the city, it is a tough choice to make when it comes to choosing the best restaurants in Gurgaon. Bookmark this list of top 10 restaurants in Gurgaon and tick them all of one by one!