One of the most important function before the wedding is Mehendi Night. Not only it kick starts the ceremonies and all the fun but also add the colour of new relationships and love, binding two families together as one. A bride-to-be always dreams of looking the best in every way and with modern dramas taking over, even mehndi has gone from being all traditional to trendy. If your search for wedding dress designer is over, but looking for a bridal mehndi artist that can perform the art of reflecting the gist of your love story on your two palms in a modern artistic manner, then here's who you need to contact.
1. Raju Mehndi Wala
Based in the posh colony of Greater Kailash, Raju Mehndi Wala was the artist who decorated the hands of Dia Mirza on her mehndi ceremony. This mehndi artist has mastered the art of henna application. From intricate floral designs and fusion combos to creative Pheras artistry, there is nothing the artist cannot do.
The artist makes sure to get an idea about what the bride-to-be has in mind and delivers creative and unique designs that match the demands. Raju Mehndi Wala is especially famous for three kinds of mehndi namely bridal, Arabic and Mughlai mehndi. Not only their designs in all these categories are different but also impeccably neat and precise. They provide their services for all kinds of occasions and events.
You can call them at +91-98187 67881, +91-8800663014 or visit them at M-46, Greater Kailash (Near Fashion Point) Basement, New Delhi – 110048.
Contact Use
2. A. Shriniwasan
Having decorated the hands of celebrities like Sonam Kapoor, Sri Devi, Soha Ali Khan, Juhi Chawla and more, A. Shriniwasan has earned a special and famed position in the industry. He has been in the business for over two decades which makes him senior in experience and expertise as well.
The artist shares that he started applying mehndi at the age of 9. He is obsessed with the art of henna application and delivering new and unique designs each time is his passion. He has also worked hard to create awareness about the dangers of black henna which makes him a socially responsible professional. A. Shriniwasan has certainly been providing unmatched bridal henna services and if you are looking for sure-shot happiness, then he's the one to contact.
You can call them at 011-26958517, 09810968577, 09873707479 or visit them at 10 C, Pocket A, Sukhdev Vihar, New Delhi, 110074.
Contact Us
3. Kundan Mehndi Artist
With the mind-boggling experience of over 25 years and skills that are irreplaceable, Kundan Mehndi Artist has set milestones that others in the industry are still trying to achieve. The clients' testament to love the artist's services and the conscious choice of picking the mehndi that is safe and rich at the same time.
The artist knows how to beautify a bride-to-be with tradition as well as contemporary designs. If you are looking for someone who is thorough with the art and can bring your visualization to life, then we recommend him.
You can get in touch with them at 91-9810910844 or visit them at 155 Tagore Garden Ext. Near Sabzi Mandi, New Delhi- 110027.
Contact Us
4. Shalini Gagneja
Henna application is considered auspicious to start the ceremonies with. And to make this tradition trendy and modern for the bride-to-be and everyone else to enjoy, Shalini Gagneja adds her artistic touches to what the brides demand. She has been in the industry since 2001 and has been delivering absolutely loved services for events like weddings, pre-wedding functions, and more. Her team of passionate mehndi artists is the best at coming up with intricate and amazing designs each time.
The best part is that they use all herbal and skin-friendly henna, that is safe and rich at the same time. The kinds of mehndi application they offer include bridal, traditional, Arabic and Rajasthani but her speciality lies in customizing the design as per the bride's preferences. You can also have a look at the makeup artist in Gurgaon
You can get in touch with them at +91 9996766100 or [email protected]
Contact Us
5. Prakash Mehndi art
Decorating the hands of over 10,000 brides for over 20 years now and having seen and performed all kinds of mehndi art, this mehndi artist deserves all the praises and applauds. Loved for incorporating and designing astounding imitations, his work is lively and full of emotions.
Their traditional henna art is what brings the most clientele to them. Apart from operating in Kamla Nagar, they have branches in South, North, West and East Delhi. The colour and quality of their henna are A-ok and the results are loved by everyone.
You can get in touch with them at +91 981 045 7606,+91 989 953 1424/34 or visit them at 173-D, Kamla Nagar, Opposite Prem Studio Near w-Mart, Delhi -110007.
Contact Us
6. Gitanjali Mehndi Artist
The charm of mehndi is age-old but still strong and suiting everyone's desires, Gitanjali is the one to call for any occasion as her aesthetics make sure to match the event and the art well. The artist is known for the array of unique and beautiful designs she offers.
Specialized in intricate mehndi designs that bloom to rich results, she adapts to the designs from every culture and performs as per the preference of the bride and the family. She aces in delivering Indo-Arabic, Arabic, traditional and floral designs. She is also a master at embellished mehndi in case you wish to set bridal-mehndi trends with Swarovski or artificial stones on your henna designs.
Contact Us
7. Alankritaa
Alankritaa was started by a young girl who knew what exactly a bride needs. Making the henna art corporate and providing professional and high-end services, Rashi Aggarwal makes sure she binds the traditional Indian art with modern creations to suit and gratify the bride's taste. For the founders, henna is not just body art but an expression of internal beauty.
From elegant and ethnic traditional designs to trendy and funky quotes and hashtags, they artistically display all one can run their imagination around. Be it the D-day, engagement or a cultural event, they are sure to ace everything they sign up for.
You can get in touch with them at 078372 24838 for bookings and queries.
Contact Us
8. Deepa's Mehndi Art
Deepa Sharma has been a popular name in the industry of henna art for a long time now. With clients such as Aishwarya Rai Bachchan, Deepika Padukone, Tina Ambani, Gauri Khan, Dimple Kapadia and more, she is sure to be loved. The celebrities do not only stamp her work with a smile but also choose her repeatedly. Her design creativity and spontaneity of customization is what makes her stand apart and unmatchable.
She does not only provide traditional mehndi services but is also a master of white mehndi, embellished mehndi art and more. You will be spoilt for choice when it comes to the kind and design of mehndi if you choose Deepa as your mehndi artist.
You can get in touch with her at 9999359998 or [email protected] for bookings and queries.
Contact Us
9. Manu Kapoor Mehndi Designs
What started as Asha Kapoor Mehndi is a well-sung name in the henna art industry. With active operations since 1990, they have served over 1500 clients across the nation. Though based and operating from Central Delhi, they have had clients in Mumbai, Bangalore, Chandigarh, Dubai, and even Canada.
They are loved and wanted for their creative designs depicting doli-barat, caricatures, bride-groom figures, garland ceremony and more in their designs. Not only is their service exceptional but also skin-friendly, safe and affordable. They let you choose from the many styles including Arabic, glitter, zardozi, Rajasthani, bridal, Arabic, Indo-Arabic, and fusion.
You can get in touch with them at 098731 65170.
Contact Us
10. Anand Mehndi
Anand is a Delhi-based mehndi artist with expertise in varied mehndi styles including bridal, Gujarati, Marwari, Pakistani, silver, zardozi, Arabic and many more styles. The designs performed by his team are neat, lively and intricate. They are also known for their trendy fusion designs that are customized on the bride's demand.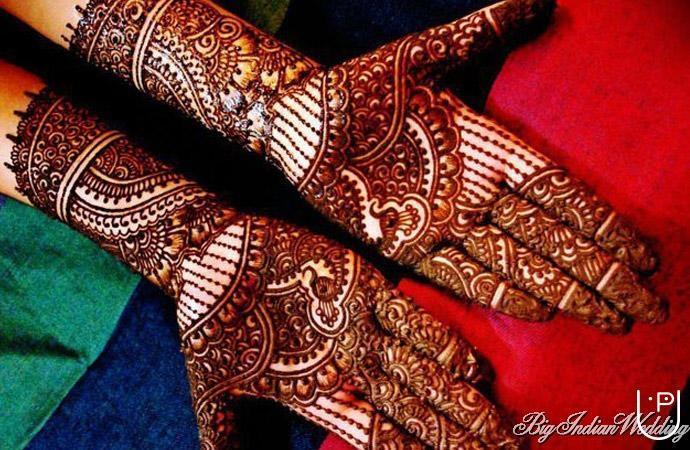 With efforts to make the wedding special and beautiful, he and his time accommodate and perform beyond expected.
You can get in touch with them at +919899887130 or visit them at PD 114 D, Near ND Market, Pitampura, New Delhi- 110034.
Contact Us