Choosing the best bridal makeup artist in Gurgaon for your pre-wedding functions as well as the big wedding day can be a tough task. It can be exciting as well as intimidating as picking the wrong artist can turn brilliance to blunder in just a few minutes and you surely do not want to risk your make-up look on the big day. But to lighten the wedding prep burden from your shoulders and ease out the decision-making process for you, we have shortlisted 10 best makeup artists in Gurgaon that will set beauty and makeup trends on you in Gurgaon.
Let's get you done with this crucial selection process and make you book the best of all these makeover artists to avoid any last-minute unavailability. Here we go.
1. Anchal Kumar
Having received her professional training from Toronto, Canada, Anchal Kumar has been practising the art of makeup in Gurgaon since 2009. This young makeup artist has beautified over hundreds of brides-to-be and women on wedding and special events. She is loved by a great circle of people for her amazing and brilliant makeup and polite and professional behaviour.
She is also recognized and recommended by various elite and influential people like Shraddha Sharma, Jaspinder Narula, Salim Merchant, Poonam Dhillon, Ritu Kumar and more. Anchal has also been a part of various prestigious shoots and high-ends bridal and fashion week such as India Runway week, Amazon India Bridal week, Bridal wear shoot for vivaah magazine and a lot more in India as well as in Canada.
Contact NowGet DirectionsCheck Reviews
2. Misha Vig
Subtlety is an art not everyone can master and having said that, the makeup artist whose work is a synonymous proof is Misha Vig. Misha is a young and successful makeup artist who gained her expertise from London School of Makeup and MUFE (Paris). She later started practising and there has been no looking back since.
Misha Vig's clients, especially brides are all a proof that Misha's style is to blend classic looks with modern application. If you are someone looking for on-point makeup that will stay put and look elegant, the Misha Vig maybe the artist you're looking for. Her makeup studio is in DLF phase 2 and she is an absolute favourite of a lot of brides-to-be, so we recommend you to be an early bird and book as soon as possible.
Contact NowVisit WebsiteGet DirectionsCheck Reviews
3. Supriti Batra
Supriti Batra is a well-known name in the makeup artists in Gurgaon but the little while and exceptional skills have got the makeover artist fame that only a few have achieved so far. Within just a short span of time of practising the art of bridal makeup, she has won the best makeup artist award by Wedding Mantra.
Not just this, she also showcased her impeccable work and brilliant art on the famous singer Akriti Kakkar on her reception. Supriti is famous for engagement makeup, customised pre-bridal makeup, wedding bridal makeup, airbrush makeup and media makeup. You name it, and she will anyhow effortlessly bring the visualizing to reality with a few magical strokes and colours.
Contact NowVisit WebsiteGet DirectionsCheck Reviews
4. Mily Kalra
If you wish to look subtle yet worth a million bucks on your big day then Mily Kalra is the one to choose. She is an experienced international makeup artist. Her speciality lies in accentuating the god-gifted features of the one on the makeup seat and not change it. She performs the art of makeup to make elegant improvisations and absolutely strays from drastic tone transitions.
She is great at enhancing the inner beauty and reflecting ones' personality through makeup. If your makeup choice is subtle, elegant, yet glamorous, then you shall not wait a minute more and hire her services for the D-day. She offers bridal makeup, advanced airbrush makeup, party makeup, engagement makeup and much more.
Contact NowGet DirectionsCheck Reviews
5. Sakshi Sagar
At a very young age, Sakshi realised that makeup was her calling and acted upon it as a wise person. She gained knowledge at The Pearl Academy of fashion and London College of Fashion where she learned fashion makeup. She gained experience from working with renowned makeup brands such as MAC and is currently a guest faculty at The Pearl Academy of Fashion, imparting the knowledge that she has learned over the years.
Having worked with Mayyur R Girotra, SOLTEE, Marie Claire and more also helped her set milestones with her flawless work. Sakshi transforms the brides-to-be naturally and makes them look stunning on their special day without fail.
Contact NowVisit WebsiteGet DirectionsCheck Reviews
6. Pooja Sethi
Pooja Sethi is a well-known makeup artist in Gurgaon. She received her professional training at the recognized and renowned Joe Blasco Makeup artist training centre in the United States. She already has amazing makeup skills which she refined during her training and by extensively practising after her formal education.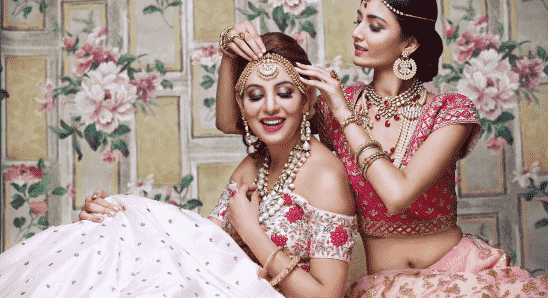 Apart from being a well-known makeup artist, she also owns a salon in Gurgaon under the name: Amber. Known for her exceptional and amazing bridal makeup art, she is well-coveted as a makeup artist by a major chunk of brides-to-be.
Contact NowGet Directions
7. Parul Garg
From occasional makeup, bridal makeup, advanced airbrush look, and fashion makeup to teaching the art of makeup, Parul Garg aces everything we can imagine in the industry. Parul is a top-rated and well-loved makeup artist in Gurgaon.
With her expertise and real-time knowledge and experience, the brides-to-be do not have to worry about any troubled skin afterwards or any display of the same on a special day. Parul uses the best of products available in Indian as well as international market. She has been recommended regularly by influential bloggers, actors and magazines, etc.
Contact NowVisit WebsiteGet DirectionsCheck Reviews
8. Jasmeet Kapany
Jasmeet Kapany is an expert hair and makeup artist based in Delhi. Her speciality lies in giving the client a natural and flawless look without going heavy on the layers but by blending in the products evenly. The subtle and classy looks she creates are worth the attention.
She also travels out of the city for destination wedding makeups which is great for outstation brides. She is known for party makeup, engagement makeup, and bridal makeup. You can also get a customized package for yourself other than the pre-made ones to suit your budget and requirements.
Contact Now
9. Saakshi Takiar
Operating out of Gurgaon as well as South of Delhi, Saakshi Takiar has earned fame and name as she sets makeup trends each wedding season with her spotless work and effortless looks. Saakshi is a professional makeup artist who sticks at accentuating the assets of the brides-to-be by lending only the needed amount of base coverage and playing safely to lend natural and dewy bridal glow on a special day.
Saakshi is very serious about the quality of products she uses and she mindfully chooses high-end makeup -brands such as Dior, MAC, Bobbi Brown, Anastasia Beverly Hills, Smashbox and alike.
Contact Now
10. Rashi Sehgal
All one needs is the magical hands of Rashi Sehgal working to transition a bride's look to make her look like a star on her D-day or any special occasion. Get a grip on amazement and turn heads with your flawless makeup as she adorns you with a look you might have only visualized to exist.
Rashi is a well-known artist in Gurgaon who has been in the business for almost 5 years now. She is a pro at making the wedding day special for each and every bride she works her magic on.
Contact NowVisit WebsiteGet DirectionsCheck Reviews
It is really important to become comfortable and familiar with your makeup artist and hairstylist. Do not judge their work based on a few pictures, ask for a trial and then only go ahead with your decision. Choosing your makeup artist is a big decision for a bride. Our list of top 10 makeup artists in Gurgaon will definitely help you to feel amazing, beautiful and prepared for your wedding day!
Just like a diamond, make is also every girl's best friend, and you can never fiddle with this friend. For every girl, a right dash of makeup, and that curved line of eye-liner can change the look of any girl and can turn any simpleton into a DIVA.
Other Best Makeup Artists in Gurgaon
However when it comes to picking the right makeup artist for any specific event, then it turns out to be a hard nut to crack, and you get extremely exhausted in searching for the best make artist in Gurgaon.
Since there are many makeup artists, making the things getting tougher for you, therefore we have brought this much-filtered list for you to zero down on the most suitable artist for your specific choice.
So let's take a look at the list of best makeup artists in gurgaon, who are falling in the next top 10 list of famous makeup artists in Gurgaon, and are ready to transmute you into the prettiest version of yourself.
11. Himanshu, DivaMakers Makeup Studio
Himanshu is trained makeup artist with and has done makeup for various renowned celebrities. He offers the services for pre-wedding as well as wedding makeovers. He uses all the high end products such as morphe, mac, makeup revolution. With so many years of experience, he delivers the best to the clients and helps them look radiant on their special days.
He has expertise in Bridal Makeup Airbrush Makeup Party Makeup Engagement makeup.

Contact Now
12. Namisha Sarna
Namisha is a certified makeup artist by Meera Sakhrani and prefers to use all the high end products such as Huda Beauty, Nars, urban decay, Mac, morphe, Stila for all her wedding as well as pre-wedding makeovers.
You can get the free trials for her services, and she travels across India for her client work. Some of her services provided are Bridal Makeup Party Makeup Engagement makeup Hair Styling Draping Nail Polish Change False Lashes
She provides her services for all kinds of events, be it a mehendi ceremony or the wedding day. She has an intricate knowledge of her work and specializes in bridal as well as party makeup. She is very rigid about using the branded makeup products, and invests her time in marking the best features in her clients.


Contact Now
13. Vandana Piwhal
She has consistently pushed the envelope and was featured in the NDTV Top 20 Artists in India list. Being a perfectionist by nature, Vandana focuses towards giving her clients a fresh look by accentuating their best features . She owns an awe-inspiring salon in Gurgaon, named Pixhal Makeovers. She holds the expertise in bridal make-up, and party looks.

Contact NowGet Directions
14. Kanika Chanda
Kanika Chanda is the next Jeffery Star in the making, who has received professional training from the various popular artists. She is a professional when it comes to creating hair dos, matching the outfit and complimenting the entire look, making it one of the best makeover studio in town. She works closely with all her brides, personalizing the entire process.

Contact NowVisit WebsiteGet Directions
15. Gayatri Sharma
An internationally reclaimed makeup artist Gayatri has carved a niche for herself in the makeup industry due to her exceptionally skills & talents. Gayatri has special specialization in offering the editorial and fashion makeup and help you look perfect for the occasion.

Contact Now
16. Pavitra Rastogi
It would be wrong to say that Pavitra is a just a makeup artist, but she is a magician, who very well knows how to transform the looks of her client. Owing to her great expertise, she has gained recognition for herself by working with known names in the cosmetic and fashion industry such as MAC & Marie Claire.
She is very famous for the passionate work she shows in her bridal work, which has gained acclamation throughout the globe.

Contact Now
17. Aastha Sidana
An expert hair and makeup artist; Aastha has her brand Noor by Aastha and her forte lies in offering the natural and flawless look to her clients sans creating the layers of different products, this is her skills to change the outlook without using the excessive number of products.
It goes without saying but the classy looks she creates are worth the attention. She has her clients not just in Gurgaon, but she is an in-demand makeup artist for the destination weddings. You can avail the incredible services offered by her for party makeup, engagement makeup, and bridal makeup. Also if you are looking for the pre-wedding package and any other specific customized package for yourself to suit your budget and requirements, you must reach her to make bookings.

Contact NowVisit Website
18. Ashima Singh
Ashima Singh is the best choice for that million-dollar look you are looking forward to wearing on your special day, as she is highly popular for changing the looks with her great set of skills. She has special expertise in accentuating the god-gifted features and she does not change them, rather she makes the elegant improvisations and works on tone transitions.
For the purpose of enhancing your inner beauty and reflecting your personality through makeup, then you must pick her for the subtle, elegant, yet glamorous look, with the advanced airbrush makeup skills.

Contact Now
19. Ruchika Bhatia
Ruchika has earned the fame, due to her exceptionally beautiful makeup skills, and the unbeatable makeup trends, which she sets on every wedding season. Her impeccable work has made her brides, to look dewy, without giving that cakey look, and this very natural and soft look created for brides, is extremely popular amongst people.

Contact NowVisit WebsiteGet DirectionsCheck Reviews
20. Ankita Bansal
If you are willing to get the magic of Ankita's makeup skill on yourself then don't delay it any further, because Ankita is the leading makeup artist in Gurgaon, who is popular for transitioning the bride's look and make her look like not less than a diva on her D-day or any special occasion.
Ankita has garnered the attention of the locals and the people from different parts of India, owing to her extremely finest makeup skills and has been providing the successful services for many years. She is mostly been contacted for getting that professional makeup look and wedding day special for each and every bride she works her magic on.

Contact Now
5 Tips for Your 'Big Day' Makeup



Every person on this earth deserves to feel special on his or her big days. And why not? It's you who is the honor of the celebration. So nothing should stop you from stepping out in front of them in what makes you feel special from within. Just like clothing and accessories, makeup has also made its place amongst the "look special" days, the eyes are something that lets you grab the light of the ramp floor. Today we will address you with some of the best makeup tips for two pretty diamond eyes that you can play with on your "the"days.
Dramatic: With the trend of natural and picture ready look these days, you must give into a dramatic look with burgundy shades. Just like your other parts of your face it is important to conceal your eyelids as well. It'll help you knock out the discoloration around the eye area and the eyes look more awake and younger.
Apply an ivory beauty blender under your eyes and a nude eye shadow that forms the base of all eye makeup. Try out the three shades for this desired look. The first one being the burnt orange shade by Anastasia Beverly Hills, the second i.e. the Melt Cosmetics Love Sick Stack has an amazing burgundy colour and the third is Lapaige Trends Lashes in the style Rosy and blend it accordingly. This will help you bag the attention you desire. .
The office look: Give your eyes the confidence of "Rosie the Riveter" everyday by Majical Mystic Me Palette by Essence which has a couple of soft and beautiful shimmery ones. Starting with the light brown to warm up the whole crease, go to the soft shining pink colour and blend it with your finger.
Now all you need to do is line up your eyes with your favourite liner into a thin lesh line with a sight wing and smudge the liner with a thin bush. And there you are!
Vintage Eye-makeup: This one is all about bigger, high winged pearl eyes with a pinch of bold shimmers. To give your eyes this appearance and your lashes, a thicker one, it is advised to use a pencil or eyeliner to draw a very thin line. If you want a shining wide open eye then try curling up your lashes with the help of your favourite mascara.
Another thing, if you wear glasses then pick your frame wisely so that they do not cut across your eyebrow or else it will just bog down your efforts. Once your eyes look more important than your glasses, you'll just have the right combination.
No make-up eyes: This one is more trickier than it sounds. Here you have to smartly conceal all your blemishes with a small, flat, brush. Just finish up with a light dusting of translucent powder in your T-zone and you're good to go with color! it is best suggested not to use a foundation but rather use a gentle exfoliant, like Dermalogica Daily Microfoliant, to smoothen and brighten the complexion.
For bright, wide-awake eyes, use a cream eye shadow whose shade is closer to your own skin tone which can have a touch of shimmer as well, depending on your taste. And last but not the least, it is a must to have a good curled eyelash. With a soft blush and highlighter and a taunted lip shade brush up your "woke up like this" look.
Gradient Eyes: As trendy as it is, this one will get you the best eye makeup.This involves using a shadow of a lighter shade and then going on to its darker shade towards the end. Starting with the lightest colour, work your way out to the darker shade. Use thin eyeliner blush in order to have an added control and go slowly to ensure it blends seamlessly.
So try out these tips for your next meet up and tell us what you feel about it. Also if you have any suggestions that can help our divas enhance their heavenly look do comment in the section below.
5 Things to Keep in Mind While Hiring a Makeup Artist For Your Wedding
Getting married is the happiest thing in one's life and when you get married to the person whom you love then it is like a dream come true moment. Every person deserves to feel special on his/her Big Day.
As weddings are the most memorable part of the bride's life and it takes months and months of preparation for that one perfect look. From selecting your wedding dresses to jewellery to make-up it's a whole lot of process and you need to prepare for your big day in advance.
Bridal make-up is one such process as everybody's eyes are on you, so the person you choose to be your makeup artist has to be the best. So trust and confidence in this person is very important, don't you agree?
So here are 6 important questions that you should ask before hiring a Makeup Artist for your wedding:
1)How Can You Book A Makeup Artist
Understand what the requirements of the makeup artist to make sure you have their bookings. Sometimes the amount paid will be nominal, but most will require 30 – 50% of the total package of services. And be sure to get receipts for each payment. A well-written contract will list the services being provided to each member of your family with a schedule of appointment times. There should also be backup plans for unusual or uncertain events like cancellation of the booking. There once was a time when all business could be done on a handshake, but for wedding day this is the important thing and we are sure that you really don't want to risk it?
2) Trials Are The Most Important
The Trial Run or Preview Session is important to make sure that makeup which your makeup artist is going to provide on your big Day is everything that you want. It's a good idea to take a camera with you to capture the look she creates for you. But remember, no one ever clicks pictures of you at less than 4 Ft away, and with a flashlight, except when they are trying to get details of your makeup! Shots taken too closely will never be complimenting to you or to the makeup! Taking candid pictures or taking shots from a neutral length in order to get a "real" feel for how it is going to look.
One word of caution: the "point and shoot" digital cameras are already available in the consumer market nowadays with very reasonable prices and they also have a flashlight which is a very different technology from the flash of your photographer's camera. Therefore, the shots you take with these kind of cameras will not do justice to the makeup you are capturing. This can be very disappointing for the bride and for the makeup artist as well. To elude this, switch on all the possible lights available in the room and try to use only circulating lighting, flash should be prohibited for shooting the makeup. Make sure that the person shooting the pictures should stand at least 4 feet away from you and use the zoom function instead of coming closer to you and taking close ups for your face with DSLR.
3) How Many Events Will They Cover On Your Wedding Day?
This is the most frequently, yet decisively, question asked before the booking for the Big Day.
If God forbid something happened and the preparations on that day don't go quite as planned or run late, you should be knowing that your makeup artist is not be leaving before all the bridesmaid are done, just because she got another appointment for some others wedding.
You need to make sure that you mustn't be the third bridal party she worked for that day and arriving at your venue all exhausted and untidy equipment.
A makeup artist who books only one appointment a day will give the full attention and satisfying results and be more likely to stay until the job is done.
Also, mind that an artist who works this way will also be having a minimized booking requirement, especially on weekends or for most demanding days.
4) Go for a Experienced makeup artist
Likewise in any profession, makeup artist can "Expertize" in numerous areas.
Those who mostly work with brides will understand their needs and desires better than an artist working with runway models or for print advertising.
In order to provide beautiful makeup as per the brides order, a bridal makeup artist must be close, flexible and be able to work in unpredictable space and lightening in various accommodations ( hotel rooms or wedding venue etc), remain calm relaxed and must be supportive for nervous brides experiencing the occasional pre-ceremony meltdown.
5) Carefully Plan The Time For Each Bridesmaid
If you are expecting a huge bridal party, this will be a very important question to ask. If you ceremony is at 12:00 AM and you have 9 attendants, be prepared to be out of bed early that day. Most artists will need a minimum of 35 minutes with each bridesmaid, to as much as an hour with the bride. Make sure you carefully plan time for your the wedding day so that preparations are not done while being in rush.
These are some of the basic tips that you must keep in mind while hiring a makeup artist for you "BIG DAY. We hope that this blog helps you with your queries and doubts, and it helps you to choose a makeup artist who can give you a perfect flawless makeup look on your wedding.