With back-to-back meetings, work pressure, household chores and what not – you are always on your toes 24×7; so, it is always good to unwind, and what better way there can be than treating your taste buds and tummy together with a fine-dine experience with your partner or family. Once in a while, it is essential to take a break from the daily humdrum and treat your senses! Here is the list of the top 10 Japanese restaurants in Delhi NCR.
Sizzling Sushis and mouth-watering Teppanyaki Grills, what more can you ask for when sitting next to the infinity pool and dining at a stylish rooftop bar and lounge? If you are longing for an intimate, romantic meal, try the Tara at Roseate House. The food here is prepared by the expert hands of Chef Paul John of Abayan Travels.
The classic Japanese dishes like the grilled broccoli dipped with delicate ponzu butter and the crisp Tuna Tempura Sushi are the best dishes that are served here. You can try some of the most scrumptious delicacies here like Tuna Tempura Sushi, Grilled Broccoli with Ponzu Butter, Yuzu Jelly, and Lamb Chops.
Contact: 011 7155 8800, 011 30806609
Address: Roseate House, Asset 10, Northern Access Rd, Aerocity, Hospitality District, Indira Gandhi International Airport, New Delhi, Delhi 110037
Book A Table
If you are planning dinner with family and friends or you want to have quick working lunches, opt for Kofuku. It has a warm and relaxing atmosphere that makes you want to visit it repeatedly. Don't be surprised if you find Chinese expats sipping some hot miso soup, know that you have come to the right place to get the taste of authentic Japanese cuisine.
The restaurant has glass walls that give you a peek into their kitchen so that you can see your Sushi being skillfully rolled and sliced. Some of the most mouth-watering treats here include the Aromatic Chicken Dumpling, Black Cod Miso, Crispy Fish Cheung Fun, Miso Soup, Creamy Shrimp Tempura, and Kimchi Fried Rice.
Contact: 011 30806578
Address: BG-09, Ansal Plaza Mall, AuguatKrantiMarg, KhelGaonMarg, New Delhi
Book A Table
Get some best Japanese food in this hidden restaurant in the bylanes of Connaught Place. The restaurant is not so easy to locate for someone who does not know the place. Once you spot it, be assured that you will be served authentic food coupled with impeccable service.
You will be greeted with Zashiki style low seating here at the restaurant. You may get thousands of restaurants that serve sushi, but in Fuji, the focus is on the conventional cooking styles. The emphasis is on regional Japanese food known as Washoku. Some of the most delicious preparations here are Sushi, and Yaki Tori.
Contact: 011 47472395
Address: M-41/2, Speedbird House, Middle Circle, Connaught Place, New Delhi
Book A Table
If you are looking for something that is a class apart in terms of food, drinks, décor, and service, then Pa PaYa should be first on your list. Be charmed by the seventy-foot-high dome, lively vibe, quality ingredients, and the beautiful elevated bar. The Pa PaYa scores above the other restaurants by presenting the famous Oriental dishes in a totally new way.
If you are a big fan of sushi, go in here, because you will see that nearly half the menu is dedicated to the finest sushi. The best in the city, Pa PaYa is here to break all stereotypes and set itself as the finest Japanese restaurants. Some of the most delicious delicacies served here at Pa PaYa are PlaSamrot Gung (Chilli Prawns), Soft Shell Crab Curry, HarGao Green Curry (Prawn Dumplings), Tuna Fish, and Lamb Rendang.
Contact: 8800002881, 8800002882
Address: Level 4, Select Citywalk, A-3, District Center, Saket, New Delhi
Book A Table
Here is the gem of a restaurant founded by the same team of Yum Yum Tree. If their sushi was different and dramatic with creamy sauces and crispy flakes, then Yum Yum Cha is all about the creative culinary fusions. Get the best Chilli Cheese Dumplings and the Pink PaanMochi Ice Cream here.
The food is affordable here unlike the other pricier Japanese restaurants. There is no compromise on quality though. Be assured that your money is well spent. Try out the yummy hot yellow curry and the spicy basil that will elevate your mood to the next level. Some of the most scrumptious delights served here are Duck Dim Sums, Dynamite, Thai Orange, Kaffir Lime Fun Bottle, Volcano, and Asparagus Tempura.
Contact: 9810002994, 011 41553030
Address: 2ndFloor, Select Citywalk Mall, Saket, New Delhi
Book A Table
Town Hall is where you have the sushi bar and some delicious seafood delights. Go to this place when you want to have a cosy setting dinner. Japanese, Thai, Italian, Asian food, including the sushi bar, is served here in this spot in Khan Market. And once you have food in Town Hall, you will come back wanting more.
And don't forget to take your beloved on a date here. We recommend that you try the California Roll, Nori Crusted Salmon, and Pepper Crusted Chilean Sea Bass. The food is finger licking awesome, here. Some of the most lip-smacking treats served at Town Hall are Nori Crusted Salmon, Salmon Wakame, California Roll, Sashimi, and Zeppin Maki.
Contact: 011 43597166, 011 43597155
Address: 60-61, Near DayalOpticals, Middle Circle Lane, Khan Market, New Delhi
Book A Table
If you are planning for a low-key date take your partner to Kylin Premier that is a restaurant cum bar with a lovely rooftop. Lounge with your partner at this airy place and you are sure to spend hours enjoying the company of each other and of course, the food.
Non-intrusive date night is guaranteed and in between do not forget to taste some delectable fare like the Fried Ice Cream Spring Roll, Prawn & Shitake Siu Mai, and the Prawn and Almond Curry Dim Sum. This is the perfect place for Asian food lovers. Some of the most lip-smacking treats here are Sliced Pork with Five Spice Sauce and Sticky Rice, Fried Ice Cream Spring Roll, Prawn and Almond Curry Dim Sum.
Contact: 011 33105340
Address: T-302, 3rd floor, Ambiance Mall, Vasant Kunj, New Delhi
Book A Table
If there is one place that is known for teppanyaki, then it has to be TK's Oriental Grill at The Hyatt Regency. Consider yourself lucky if you are served Teppanyaki at this restaurant station by a senior and more experienced chef. Sit around the teppanyaki station to see how it is being cooked before it lands on your plate.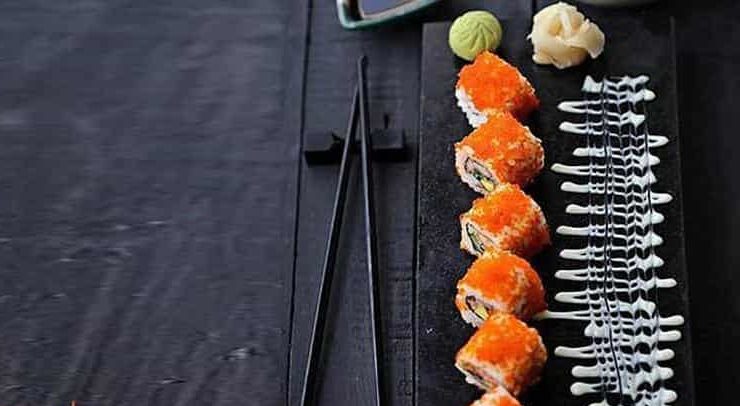 The chefs at TK's Oriental Grill love to experiment with new ingredients so that you get to taste their innovative creations on the hot grills. The rustic chic vibe at the restaurant is accentuated by the terracotta tableware and wooden décor. Amongst the many dishes served here, the ones that are a sure treat for the taste buds include Fresh Sashimi, Sake, and Teppanyaki.
Contact: 011 26791234, 011 66771312
Address: Hyatt Regency, BhikajiCama Place, New Delhi
Book A Table
How can we forget to include Wasabi in the list of India's and Delhi's finest Japanese restaurants? You will get sushi varieties and seafood dishes in galore here. Be astonished at the sight of the ceremonial delivery of the food by the team.
The Wasabi team has been personally trained by Masaharu Morimoto who is an acclaimed Japanese chef known for his innovative style of food presentation. And also, they have a wide variety of selection in Japanese whiskeys, sake and plum wines. Amongst the many dishes served here, the ones that entice the taste buds the most include Omakase, Black Cod, Tempura Rock Shrimp, and Sushi Platter.
Contact: 011 66566162, 011 66513585
Address: The TajMahal Hotel, 1, Mansingh Road, New Delhi
Book A Table
This restaurant changes its menu every few months so that you get a taste of the season's fresh flavours. Feel like you have entered a Japanese wonderland with kokeshi dolls and antiques in pop colours. If you want to learn the art of making sushi, attend the workshops conducted by Chef Vikram Khatri here.
And also, do not forget to taste the excellent collection of sake with your food. With impeccable service and scrumptious feast, you will cherish your outing forever. Amongst the many delicious delicacies served here, the ones that are the feast for the taste buds include California Rolls, Mushroom Gyoza, Ramen Burger, and Miso Cod.
Contact: 011 24690005, 9650185005
Address: 28, Main Market, Lodhi Colony, New Delhi
Book A Table
These are some of the top chosen restaurants out of the best Japanese restaurants in Delhi NCR. Japanese food is crammed with unique flavours, and if you happen to have developed a liking for it, you know that every spoonful and every piece that you pick up with a pair of chopsticks is full of flavours that cannot be resisted. Japanese food truly is what comfort food means to us.
Sushi is the mouth-melting dish that attracts everyone and over the years we all have developed a fondness for the Japanese cuisine. No doubt the Japanese cuisine is extremely rich in taste and is highly scrumptious!
And now these extremely tasty dishes are available in Delhi. In this post I have compiled a list of next top 10 Japanese Restaurants in Delhi, let's explore further…
1. Akira Back, Aerocity
This place is not known just for making the best Japanese food, but also its ambiance is equally ravishing, which gives you the true feel of Japanese culture.
It largely focuses on the traditional cooking styles and serves authentic taste, derived from seasonal products and artisanal sourced ingredients.
What you must try here- Sushi & Sashimi
Where To Go- J W Marriott Hotel Asset Area 4, Near Indira Gandhi International Airport Hospitality District, Aerocity, New Delhi, Delhi 110037
2. Asia Central, Siri Fort
You can enjoy the hot sizzling dumplings and is is a great destination for the food lovers who want to enjoy the classic Japanese dishes handpicked from Chef. You experience a culinary ocean at Asia Central. The place brings Japan closer to your plate .
What you must try here- Pak Choi & Water Chestnut Crystal Dumpling and Chicken and Prawns Sui Mai
Where To Go- Shahpur Jat, Siri Fort, New Delhi, Delhi 110049
3. Chew – Pan Asian Café, Connaught Place
The ambiance of this place is super uber-hip featuring a medley of various elements. Warm and inviting, the eye-catching black and white Aztec-patterned tiles are used with Dholpur stone. You get the food made up by the culinary experts, who provide the oriental flavors.
What you must try here- Sushi, Dumplings, Mocktails, Tiramisu, Cocktails, Kung Pao Chicken, Pad Thai
Where To Go- M16, Outer Circl, Block M, Connaught Place, New Delhi, Delhi 110001
4. Dao, GK-I
Ever tried the Japanese style pizzas or sushi rolls? Well, then you need to make a visit to this place today. This place has the authentic flavor imbibed within the other continental food, that makes it different, and most sought after Japanese restaurant in Deli.
What you must try here- Spicy Chicken Dumpling, Tom Yum Soup, Prawn Har Gao, Coconut Ice Cream
Where To Go- N-17, 1st Floor, N Block Market, Greater Kailash-I, New Delhi, Delhi 110038
5. Nom Nom, The Ashok
When it comes to mentioning India's finest Japanese restaurants, you cannot stay away from mentioning Nom Nom, because this place is editor's choice highly exotic sushi varieties and their seafood dishes. The precision and ceremonious delivery of food cannot be ignored at all. You can dive into elegance and decadence brought together in one beautiful culinary spread here.
What you must try here- Dimsum, Mushroom Dumpling, Chicken Dumpling
Where To Go- The Ashok, Diplomatic Enclave, Chanakyapuri, New Delhi
6. Big Wong XL, Nehru Place
Nehru Place this exclusive restaurant, which is just located in the hustle-bustle of city but with a cozy dinner place, the setting is perfect for dinner dates and Sunday brunches. It's a hub of family outings during evenings and mostly on weekends, where they enjoy the food with a lovely sushi bar. Big Wong XL, gives you a fair idea of how great the food on this Japanese restaurant's menu is.
It also famous for its Chines and Thai, if you are willing to try some authentic Sushi, then go to this place.
What you must try here- Sushi, Noodle, Hakka Noodles, Mocktails, Tom Yum Soup, Cocktails, Manchow Soup
Where To Go- FC-14, Epicuria, Lower Ground Floor, Nehru Place, New Delhi, Delhi 110019
7. MEGU – The Leela Palace
For enjoying the nicely plattered Japanese meal, heading to this place is the best choice, since they are never constant with their menu items, but keep on changing and updating the menu list every few months. This place is famous for the fresh and artful Sushi.
What you must try here- Sushi, Wasabi Prawns, Sashimi, Fish,Scallops, Salmon, Miso Soup
Where To Go- The Leela Palace, Diplomatic Enclave, Chanakyapuri, New Delhi, Delhi 110023
8. Pa Pa Ya, Saket
Well, if you're willing to relish the real Japanese decor, food, drinks, and service then Pa Pa Ya is the complete package offering the best in every possible way.
Its interiors are filled with the seventy-foot high domed ceiling, beautiful elevated bar, lively vibe, and the extremely rich-quality Japanese ingredients.
What you must try here- Tuna Pizza, Soft Shell Crab Curry, Lamb Rendang, Crispy Lotus Stems, Har Gao Green Curry Farce (Prawn Dumplings), Carbon (Squid Ink) Sushi, Pla Samrot Gung (Chilli Prawns) and Chocolate Ball of Fire.
Where To Go- Dome, level 4, Select CityWalk, Saket, New Delhi, Delhi 110017
9. TK's Oriental Grill, Bhikaji Cama Place
It is a great place for the quick yet scrumptious lunches or enjoying the quality time with your loved ones. This place has the exotic Japanese cuisine and is highly famous for teppanyaki, and you can sit around to see how your food is cooked. You can try sake and instantly experience the real taste of Japan. To make the ambiance more enjoyable, you can enjoy the hot grills platter here.
What you must try here- Fresh Sashimi, Teppanyaki, Sake
Where To Go- Hyatt Regency, Bhikaji Cama Place, New Delhi
10. Sakura, Bangla Saheb Road
It is named after the Japanese cherry blossom flower and is the haven for the Sushi lovers. Japanese expats prefer to make regular visits here as this restaurant has recreated some of the most popular street food dishes in Japan with the fine-dine setting.
What you must try here- Miso Soup, Ramen, Matcha Ice Cream, Grilled Salmon, Sashimi Platter
Where To Go- The Metropolitan Hotel & Spa, Bangla Sahib Road, Gole Market, Sector 4, Connaught Place, New Delhi, Delhi 110001