Our want for everything and anything has led to new innovations and discoveries.
Hybrid cycles are one such innovation that combines the features of regular road cycles and mountain bikes offering the cycling enthusiasts much cooler equipment to race around the cities as well as rough terrains and gain a whole new refreshing experience altogether. For those who cannot choose between speed and comfort, these bikes offer a unique blend of both qualities at their best.
The trend has spread to wide extents and the following bikes have successfully made it to the top 10 list:
1. Cosmic Shuffle 700C
For cycle enthusiast on a tight budget, Cosmic Shuffle 700c is the excellent option available in the market at an affordable price. With wide tyres and 28-speed gears, it is easy to. The built-up is sturdy, durable, and lightweight and can last for years. They also provide accessories along with the base model, such as LED light, wheel reflectors, and many more.
The only drawback is that the front and rear suspensions are rigid.
2. B'Twin Riverside 120
With 8 indexed speed gears and a rigid frame, this unisex bike is a good choice for people who rediscover their hobby of cycling. This is an ideal design for casual riders cycling for two hours and also allows long ride bikes every now and then. The height can be adjusted.
The drawback is there is no quick release at the rear.
3. Montra Trance Pro
For any beginner rider who wants to go around for commuting or leisure on urban roads, this is a good bet. It has a 21-speed gear and is built of a 6061 aluminium alloy frame. It has an adjustable seat and handlebars to make riding more comfortable.
4. Firefox Momentum
Firefox is one of the best brands in India when it comes to comfort and design.
Equipped with Shimano gears that offer a total of 24 gears, this bike is best suited for all kinds of adventure — whether you are on a park's cycling trails or on uneven terrain — without compromising comfort. The seat and height of the bike can be adjusted easily to offer maximum convenience to the rider. The bike has mechanical disc brakes on both wheels for safety purposes.
The drawback is that the suspensions are only on the front wheels.
5. Firefox Volante
The 18-inch aluminium alloy frame and absorption shocks not only make this bike durable but also improves its stability.
Riding should be fun but safe. The anti-skid tyres offer superior grip, V brakes suspension, and a 27-speed hub all our consciously built offer complete protection and bring the riding experience to the next level. This is specifically designed for those who love off-road adventures.
The drawbacks are that there is no rear suspension. Its assemblage might require assistance.
6. Schwinn Searcher 4
This triple-butted lightweight cycle is a quality product with a hard trail model for those who love to ride on off-road trails. Schwinn Searcher 4 comes with 21 gears and SR Suntour M3010 suspension fork. It is relatively expensive but the quality is worth it.
7. Triad X4
This lightweight authentic design with matte finish paint catches the attention of every passer-by. This is an excellent choice for both on-road and off-road adventures. The wide tires improve grip and stability. The design aims at ease of control. The bike does not have any rear suspension.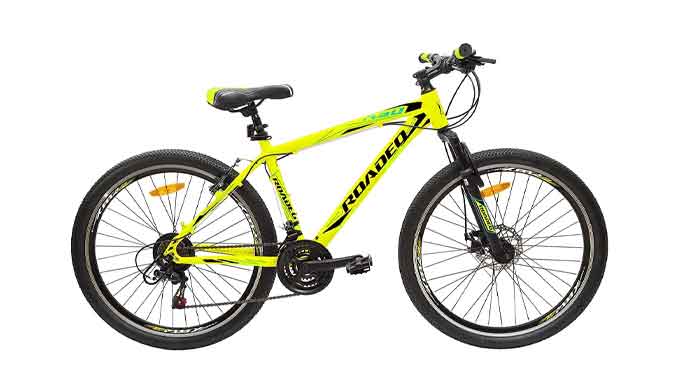 8. Hercules Roadeo A50 26T
Hercules is one of the most popular and bestselling brands in India. This bike is best suited for casual riders. The combination of 21 gear aluminium alloy frame, latest features and technology, and bird type handlebar makes it a perfect choice for long comfortable rides.
Although the cycle comes 80% assembled, it could be tricky to assemble the remaining 20%.
9. Cannondale Quick 5
This is from the Quick model series by Cannondale. This is built using a 700 C aluminium frame and hydraulic brakes, best known for speed and comfort. This is ideal for commuting, occasional touring, and even for long weekend rides. What makes it stand out among the rest is the Synapse Active Vibration Elimination technology that lowers the road shock vibrations.
10. Omobikes 1.0 Lightweight Hybrid Cycle
Started as a journey towards healthy and green India by two IIT graduates, Omobikes has quickly gained popularity among the Indian folks for its excellent hybrid bikes. This is a consciously designed bike with high tensile strength and adjustable seats. The anti-rust coating ensures durability. They offer an unparalleled style and speed.
The only drawback is that the front and rear suspensions are rigid.
Cycling is a good sport when you have the bike you like. Finding the right bike is not that tricky when you know your goals and budget.