Las Vegas has been the talk of the tinsel world not just from today, but for the last many years, as the world's most famous casino resort town.
Today Vegas is much more than an entertainment site, where people have a strong interest in high-stakes gambling and the world of show business.
If you are looking forward to turning the luck higher on your interest then, surely las vegas casino guarantees sunshine filled with luck to you and can ensure that you would have a scintillating enjoyment.
Although one thing in this run you cannot forget that each of the casinos has its unique characteristics, that leave the visitors to yearn for more.
But with a huge glut of casinos and resorts to choose from, we've brought a list of top 10 casinos in Las vega for you to choose from…
So let's get on the journey…
1. MGM Grand Las Vegas
MGM Grand is one of the best casinos in Las Vegas and it is a hotel as well. As a visitor, you get to unleash the vast varieties of table games and stingy slot machines, that are best amongst the existing casinos in Las Vegas.
Also, if you are not into gambling yet want to enjoy here, then there are multiple activities like Glass Lion habitat, studios walk of CSI – where the guests can solve three murder cases guided by the touchscreen stations.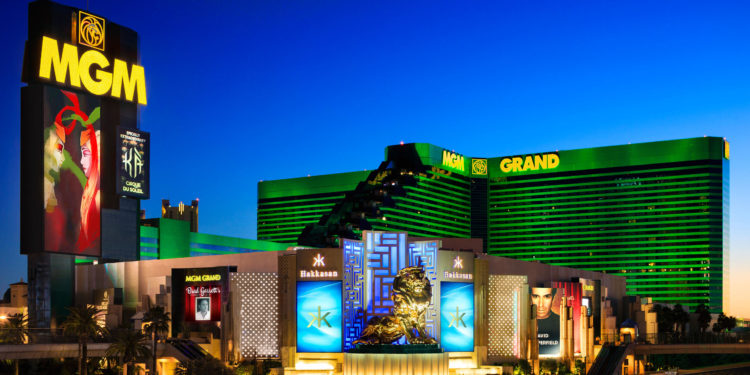 MGM has more than 6000 rooms and is the most expensive casino in vegas, with the thrilling outdoor pools, rivers, and waterfalls, and it is the largest single hotel in the USA.
Located at: Paradise Nevada
What you must try- World-class Casino, pools, waterfalls, and derby styled slot machines.
2. Aria Resort And Casino
A very beautiful casino and it is the part of City Centre complex in the Las Vegas Strip. The visitors choose this casino for playing slots in Las Vegas, as you can find some of the biggest & largest slot machines in the Las Vegas Strip.
There are two curved glass and steel high-rise towers, and the visitors come here to enjoy the slots, poker, table games, and others.
They have well-adopted the technology and the machines in the games room are controlled by a data center. It has almost 4000 guest rooms and each room is well- equipped with gaming consoles.
Located at: Paradise Nevada
What you must try -Casino Slots, pools, spa and salons, also every casino's gaming space includes slots, poker, table games, and a race and sportsbook.
3. Red Rock Casino, Resort & Spa
If you want to experience the best of the Las Vegas Strip resort, then reaching straight to Red Rock Casino, should be on your list.
You can find it located at the Summerlin, Las Vegas Valley and is managed by the Station Casinos. It is a great place to be visited not just by the visitors but also by the locals, who prefer to make a visit here.
This very resort has a vast land of open space since it is in the vicinity of the Red Rock Canyon National Conservation Area.
Located at: Summerlin, Nevada, Las Vegas Valley
What you must try- Pool, restaurants, steakhouse restaurant and the game room
4. The Venetian
The Venetian offers one of the most memorable gambling experiences to the visitors and this very casino is situated at the Last Vegas Strip.
You can get a hold on hundreds of las vegas casino games with Venetian, where you get table games in separate exclusive gaming areas, as this casino is covering more than 125,000 square feet.
Located at: Las Vegas Blvd
What you must try- Some of the interesting games you must try are blackjack, baccarat, roulette, craps, Pai Gow poker, Pai Gow Tiles, and various other games.
5. Bellagio
The elegant décor with the class and sophistication can be truly experienced at Bellagio. Here everything seems perfect and handcrafted, also the traffic on the casino floor is high & energetic, and you can feel the vibe from the main corridors only.
You are likely to get the aesthetic feel while entering this very casino. Although there are no food options for a quick snack while playing in the casino, but you can relish the food from some of the best restaurants in Las Vegas surrounding the casino floor, which is 156,000 square feet. ​ You cannot give a miss to deep plush seats, large screens, and a VIP ambiance makes this a good spot for an afternoon of sports betting and game-day action.
Located at: Paradise Nevada
What you must try- You can enjoy more than 200 table games featuring blackjack, craps, roulette, three-card poker, Let it Ride, Pai Gow Poker, and Pai Gow. Further, there are 2,300+ machines on the casino floor. Here are a video reel and video poker.
6. Wynn Las Vegas
The moment you enter this casino, you can feel the grandeur, as it is combined with the square footage of Encore Las Vegas, and the long walkway between the two properties is long enough to classify it as two casinos. You can find the grand space 116,187 square feet, which boosts up the mood of the visitor and shoot their energy to the next level.
Located at: Las Vegas Blvd
What you must try- Blackjack, craps, roulette, and Pai Gow. Also, the sportsbook is 1,600 square feet long with a wraparound LED video screen, VIP booths, and an endless array of viewing options.
7. Luxor Las Vegas
Are you willing to feel the heat of exclusive casino which is spread across 120,000 square feet, and has a few exclusive bars and lounges? Then you must visit Luxor, which is among the largest casinos on the strip. You can find the mouth-watering food options on the upstairs and uncover the amazing las vegas shows as well.
Located at: Las Vegas Blvd
What you must try- 62 table games including three-card poker, Let It Ride Poker, craps, and blackjack. Also at the Sports Book at Luxor Las Vegas, you can place bets.
8. Mirage Hotel & Casino
The Mirage is situated at the Las Vegas Strip and has a resort and casino. Also, the Marquee located in front of the Mirage is the largest standing Marquee in the entire world.
Surprised??? But wait there is much more to unbox…
Here you can find the resort attractions, such as Siegfried & Roy's Secret Garden and Dolphin Habitat, an artificial volcano, which erupts at night.
Located at: Paradise, Nevada
What you must try- Largest standing Marquee & Artificial Volcano
9. Stratosphere Casino, Hotel & Tower
This place is the combination of a hotel, Casino and a Tower, and to your surprise, this tower is the tallest Observation tower in the US. Here the hotel exits in a separate building. On the tower, there are two observation decks, wherein a rotating restaurant is also placed.
Visitors can enjoy sky drop, sky jump Las Vegas and many other fun games apart from gambling.
Located at: Las Vegas Boulevard
What you must try- Observatory desks, and the thrill rides.
10. Palazzo Las Vegas
Palazzo is the sister venture of Venetian casino and has everything that can leave you awe-struck. You may find the high ceilings and the spacious walkways, that gives you a comfortable & fantastic space for gaming. Here the size of the casino is spread across 105,000 feet, where you would find the bars and extremely scrumptious food options, in the abundance.
Located at: Next door at Venetian
What you must try- Blackjack, Triple 7 Blazing Blackjack, Buster Blackjack, Caribbean Stud Poker, Casino War, Craps, Crazy 4 Poker, Flushes Gone Wild, Fortune Progressive Pai Gow Poker, Imperial Baccarat, King's Bounty Blackjack, Let It Ride Stud Poker, Linked Progressive Jackpot
It goes without saying but Vegas has everything and this las vegas casinos list, gives you everything to choose from to help you stay glued to its magical abode and give enough reasons to the visitors to keep coming back.
So if you are on your bachelor party or just trying out a destination for friends vacay willing to try your hand in gambling, Vegas has got much to offer to you to help you relish the beauty of your travel, with numerous activities.
In my upcoming post, I would also be covering the top 10 activities to be done in Las Vegas, so you may never find the boredom in Las Vegas, and you enjoy the best of your next travel trip to the entertainment hub of the world.